SPASA Pool Member Builder
Registered Building Practitioner
Concrete Swimming Pool and Spa Builder in Melbourne
Venetian Pools shows genuine interest in each and every one of you (our clients) throughout the whole pool design and construction process.
Our Services
We design and construct quality in-ground concrete swimming pools and spas specifically tailored to your needs. We use only the best quality products and pride ourselves on superior workmanship. We specialise in building indoor and outdoor pools and spas that will enhance your beautiful home.
We pride ourselves with attention to detail as all pools are personally supervised by our founder, on site, from start to finish ensuring a quality pool that you and your family can enjoy for many years to come.
Why Us?
Venetian Pools is a family owned and operated business. Our passion is to provide professional workmanship and excellent customer service resulting in a high quality swimming pool that you and your family can enjoy for many years to come.
You are number 1
We are not a volume builder where you are just a number.
Unique 1 on 1 service
The entire project is personally managed by the owner Sam Poli with step by step assistance.
Vast Experience
We have been building swimming pools for over 30 years and therefore have vast experience in the industry.
What is your desire?
Lap Pools, Plunge Pools, Indoor Pools, Negative Edge, Recreational Pools, Spas.
We service Melbourne Northern Suburbs and specialise in all sorts of ground conditions such as: Rock, Sand, Sloping sites, Slip zones, Tight and hard to access sites. Whatever your requirements, no project is too difficult.
Latest Projects
Unique professional workmanship resulting in high quality swimming pools every time.
Begin your experience today
Get in touch with us for a design and
construction quote or book a consultation appointment with us.
Very High Standards
Hi Sam,
Just a short note to say thanks to you and your team for the great construction of our concrete swimming pool. All the trades that attended our job were professional and the standard of their work was very high. My family and I are now enjoying our backyard around our new pool!
Barry & Dianne, Plenty
Respectful Manner
We would like to personally thank you for the professional service you have given us during the process of choosing a pool right through until handover of the pool. We appreciated that not only did Venetian Pools deliver a quality pool but also that Sam personally dealt with us in a professional and respectful manner. Additionally, our pool is brilliant and we have had considerable feedback from trade's people advising us that our pool is top quality with it being above the industry standards. Thank you Venetian Pools, especially yourself Sam, for our pool. We have recommended you to our friends and family and hope that this letter will serve to show our appreciation and enhance your business.
Sam & Pam, Doreen
So Impressed
To Sam at Venetian Pools,
I liked the idea of no salesman, you deal direct with the owner Sam Poli who has great ideas and years of experience. We are so impressed with the final results and quality of our pool. I couldn't believe how smoothly the process went right from digging the pool to the final handover. Thank you for all your hard work, Sam we have no hesitation in recommending you to our family and friends.
Adele, Pascoe Vale
Very Professional
We didn't even bother getting quotes from other pool companies. We had many recommendations from happy Venetian Pools customers, which gave us the confidence to spend our money with Venetian Pools; knowing that we would get the product we expect. We loved how Sam communicated with us before; during, and after the job was finished. He was very professional. Thanks again for such a good job and a beautiful pool. Keep up the good work.
Michael & Kathy, Avondale Heights
Thank you Sam
In all our dealings with Sam he has been extremely helpful and reliable. Sam had plenty of good idea's to offer us and with the many changes we seemed to give him he was very patient and flexible. Sam was able to translate our, at times, sketchy idea's, accurately into something workable. The end result being the wonderful pool we are now swimming in. I have already recommended Venetian Pools to others and will continue to do so. Thank you again Sam for giving us what we wanted and more.
Anthony & Natasha, Eltham
Top Quality
We have known Sam Poli for over 5 years on a personal basis and have had business dealings with him since last year when he supervised the construction of a concrete swimming pool on our behalf. During this time, we have found Sam to act in a professional manner in advising us of each step of construction resulting in a quality built pool that we are very happy with. Sam made himself available for us when we had queries or when requesting general information. He kept us informed at all times during the progress of construction and we found him a wealth of information. We have always found Sam to be honest and reliable and highly recommend him. We wish him all the best in his future career.
Rod & Angela, Melbourne
Follow Along
Subscribe for the latest updates and more.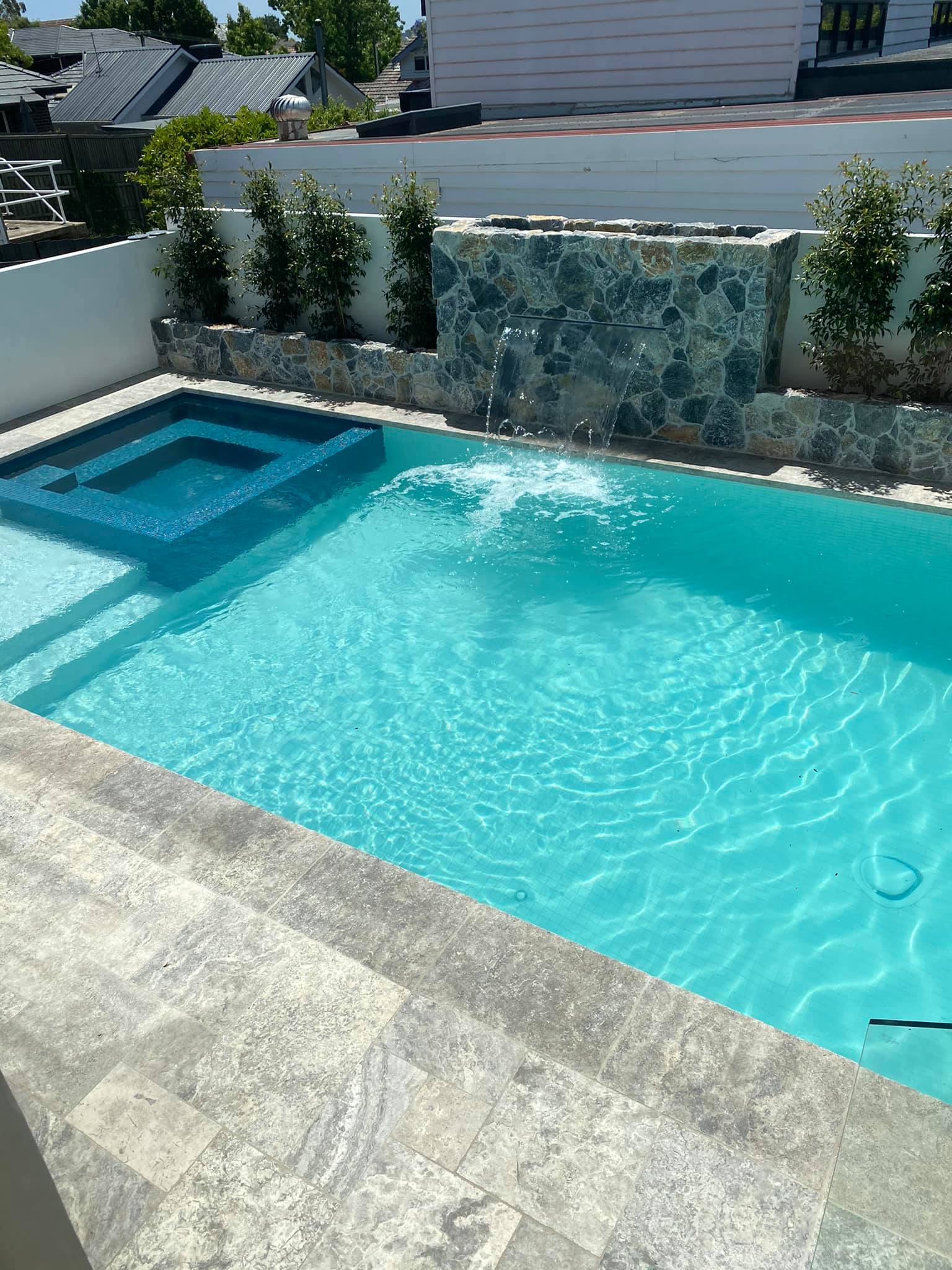 Venetian Pools look amazing!
What We Do
We create unique custom designed pools specifically tailored to your needs.
Imagine a pool designed to complement your entire house, backyard landscape including your outdoor entertaining areas making your wildest pool dreams come true.
From the initial design process to the final handover, we are with you every step of the way.
We ensure you receive quality service with assistance and advice from lodging plans to council, architectural engineering to excavations by an experienced licensed builder.
Every detail is considered to make certain the end result goes far beyond expectations.